Hello fellow AC users! It's been awhile

I have been working on my next game just by using AC scripting guide and getting better and better at it. Fantastic tool.
But I need a helping hand on this one.
I have 100 level Ui unity icons and you can skip levels in the game but if some of them are won I want to set a wining cup image visible over those level icons that got unlocked.
I have an array of 100 cups images. And 100 global LevelWon AC variables, like 19: LevelWon/Level01, 20:LevelWon/Level02 , 21:LevelWon/Level03 and so on.
So how do I iterate through AC variables? How do I declare an array of AC variables to go through?
I need to go through the variables and if the level is won, go through the array Cup icons and set visible the ones corresponding to the specific variable .
Below is the modification of a script I made to work on unlocking level icons and now trying to use it for unlocking specific Cup icons over levels buttons that have been won.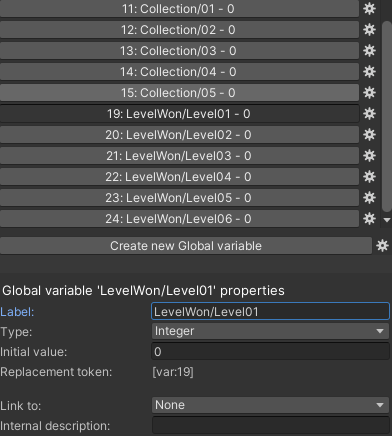 namespace AC { }
public class LevelSelection : MonoBehaviour
{
public GameObject[] CupIcons;
void Start()
    {

    }

    void UnlockCupIcons()
    {
        int levelAt = AC.GlobalVariables.GetIntegerValue(3); // Need to change this to some how declare AC variable array instead to iterate through

    for (int i = 0; i < lvlButtons.Length; i++)
        {

            if (i + 0 <= levelAt)
            {
                CupIcons[i].SetActive(true);

            //Debug.Log("LevelNow" + levelPick);

             }
        }
    }
}

The closest about how to iterate through the variables I could fine on the forums is this https://adventurecreator.org/forum/discussion/9820/using-script-to-get-a-list-of-objectives
Using:
AC v1.73.3
Unity 2021.16f1