Hi,
I'm Dorian SRed, music composer and indie dev with my bandmate Trevor Reveur. We are working on a game that is the culmination of our respective passions and we are very excited to present you the first shapes of it.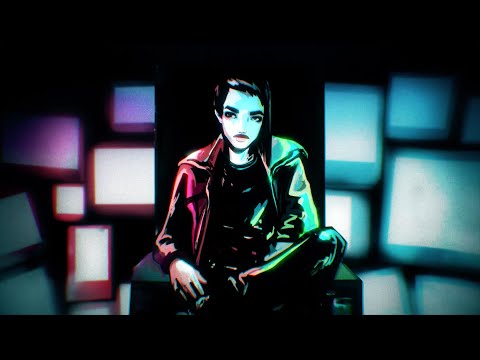 NO cvt studio
We lived this first half of decade like it was our own little 1989/1995 era. Without the highlights in the papers, but with all the noise that goes around.We knew the needle in the red, but never the syringe in the wrong arm. Never too much. Exactly what we needed.
Six overdriven years across Europe, playing in seedy bars in front of seven drunk, dead of boredom, people, or shaking our guitars on big stages in front of 5000 over-excited dutch. Passions teared whole-heartedly, hundred of movies watched, burned reel, bloodshed on 16mm.
Together, we conjured the narration, we tamed the weird, we fucked in an orgy of wires, neons and white noise. Distance doesn't corrupts anything. Amps were set aside for a while, and we dived head first into another sphere we loved, full of code, textures and pixel art.
Enjoy NO CVT, an indie video game studio full of fuzz literature, pixel music and analog dreams.
Void&Meddler
This is how we present the stuff :
"One step closer to the blur" she thought as she poured herself a last shot of whiskey, for the road.
"Sleeping pills and alcohol, perfect cocktail to forget memories you don't even have. How funny.
One last drop, close your eyes. A sleep without dreams, and this hope, this curse of being alive in the morning, with the certitude that everyday is exactly the same.
Shouldn't it be time for me to finally chase this past I gave up long time ago? One strange last thought, but it's getting dark, too dark to think... Maybe... Tomorrow will give answers..."
She fell in the majestic nothingness of the night while the singer in the old radio player was wispering his quiet prayer: "I'll take the fate the daylight brings".
VOID & MEDDLER is a deep trip inside the mazelike mind of Fyn, wandering in an uncertain era, in an undefined city. People are used to taking hormone drugs and collecting false memories. This make it easier to change their life and become the person they want to be.
Features:
-A non-linear adventure in 6 acts
-Each act can end in several ways (different puzzles, different stories)
-Surreal atmosphere inspired by Philip.K.Dick, William Gibson, David Cronenberg, Shinya Tsukamoto and Gregg Araki.
-Your actions may alterate theworld around you.
-A not so subtle mix between good old point and click features and a totally fucked up story!
But, let's be clear, this is pure formal datas.
And this is how I feel it :
As you learned earlier, me and my mate past the last few years spreading our message with the sound of fuzz and analog synths. And it still turns us on.
Void And Meddler is a protuberance of our twisted brains, the way we found to add a whole lot of new images of this so called message I just talked about. It's everything we love, and more.
Video games, music, movies, books, comics, photographs, all different kind of medium, but for him and I, always a way to show a part of us that may seems wicked to the rest of the world. This part full of noise, desperate and violent love stories, psychotic androids, empathic murderers, femmes fatales in red dresses and never ending dark cities.
Well… This is this part of us that we decided to explore by making Void And Meddler, and this is only the beginning.
GameJam demo:
Everything started one year ago with several game jam, quite crazy to me, we will explain in more detail soon. But last jam let us develop our ideas for Void&Meddler, with the chance of having a live audience reaction. The result is here:
http://gamejolt.com/games/adventure/void-meddler/38595/
Screenshots (WIP)
Plateforms:
Pc and Mac, and maybe on ios and android. We are making the game with Unity and Adventure Creator (thank you so much Chris).

Team
Dorian SRed: Game Design, Story, Pixelart, Unity User, Musics.
Trevor Reveur: Game Design, Story, Musics.
Cera Kelly: Character Portrait.
Sandra & Mathieu: Environment Artists.
More informations
We plan to release the game in episodic format (3 episodes). The
first episode is due to release in october 2015. You can already
pre-order the full season on
voidandmeddler.com
at a special price.
Follow us on Twitter and Facebook:
http://no-cvt.tumblr.com/
That's all for now, see you soon
!