Spent about a week trying to debug this.
AC version: 1.64.2
Unity: 2017.4.1
I have a Door prefab:

DoorParent is empty.
Doors1 has: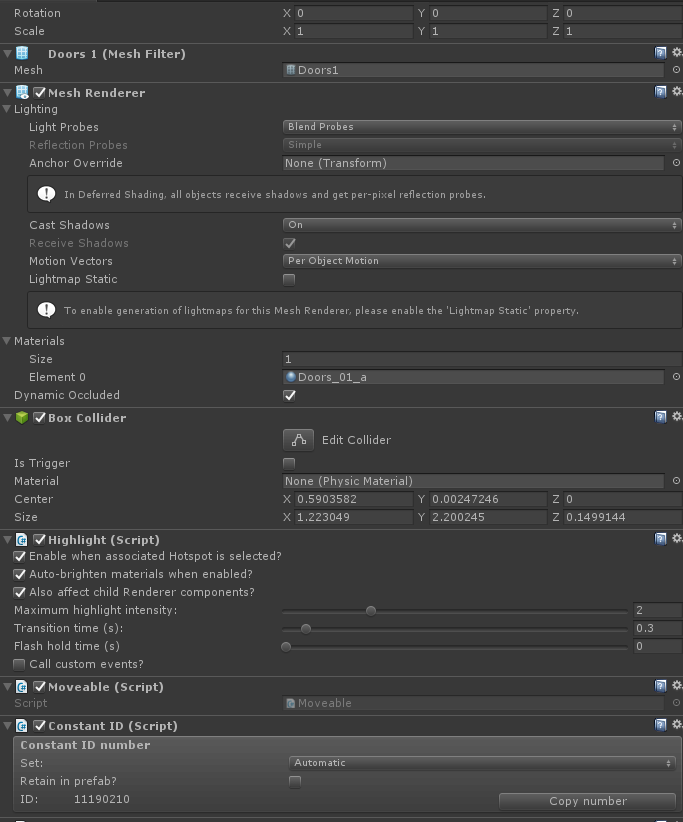 Constant ID is set to Automatic and Retain in Prefab is unchecked.
This Door prefab is instantiated at runtime throughout the world (I am using DunGen to generate the level. Every wall has a doorway created procedurally.)
When I Run and check each Door in the scene, every one of them has the ID 11190210.
What am I missing?
I have a DoorHotspot child that uses an ActionListAsset to open the Door parent. It tries to reference the ConstantID but this doesn't work because all the other doors in the scene use the same Constant ID. I was hoping there was a "Hotspot Parent" action to reference the Door that I clicked the hotspot child on, but it doesn't seem so.
I have to keep the DoorHotspot as a child of the Door object itself because the Door object needs to be on the Door layer (since I don't want pathfinding to think of it as a obstacles). Since Hotspots can only be set up on one layer, I want to leave them on Default and not change them to Door. If I didn't need to make the hotspot as a child, or I could reference a hotspot's parent, this would be easier.